Alan Emerson Hicks was born in 1964. He was born and raised in the Chicago area. Alan's work focuses on a social commentary through and about the disposal of trash today.
"My artwork is about transformation. I collect plastic commonplace objects and societal detritus, bottles, grocery bags, caps, hangers, video tape and use them to make sculpture. I want the viewer to see the objects of their everyday lives anew, hopefully changing the way they dispose of these items…My work is a commentary on what our society views as important and unimportant," says Hicks.
He attended Lindblom Technical High School and received a Bachelor's of Fine Art Degree from Illinois State University. While Alan was in school he studied sculpture with regards to multi-media formats, woodworking, metal smithing, drawing and printmaking. Once he graduated, Hicks began his career as an artist and worked with a variety of mediums until he found the passion of turning trash into a social commentary on society's views of what is important and what's unimportant.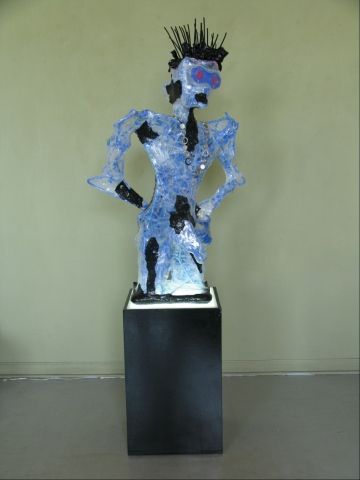 Blue Boy, 2007
plastic found objects, and a light box base
Butterfly Grande, 2007
plastic found objects/trash
200, 2007
heat manipulated plastic bottles, lightbox